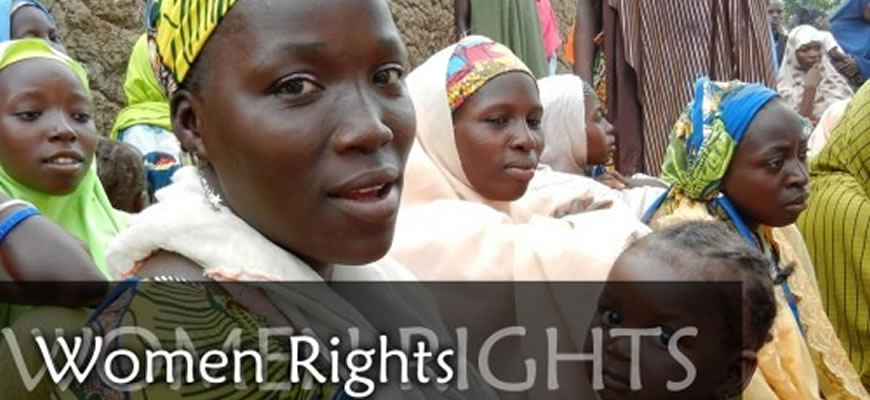 The programme is aimed at providing legal protection for women's rights, access to justice, and fight against domestic violence and promote human dignity and respect for the rights of women.
The programme's goals are to:
Improve the legal framework for protection of victims of domestic violence
Enhance education and awareness on women's human rights
Improve women's participation in public life and policy making
Integrate respect of women's human rights in public polices, legislation and administration of justice, and
Provide legal support to female victims of human rights abuses.
Women Human Rights Programme comprises:
1. Domestic Violence Bill Advocacy Project: The project is aimed at increasing awareness and popular support for the enactment of Domestic Violence law in Nigeria. It also creates public awareness on the dangers of domestic violence and its solution. The project comprises;
Training of Shari'a Court Judges on Integrating human rights of women in administration of shari'a law
Legal Aid to female victims of human rights violations, including victims of domestic violence and remand imprisonment
Promotion of Reproductive Health of Women: It focuses on providing resources for grass roots community based organizations and health workers on rights of women to reproductive health. The project also seeks to address the human rights issues on HIV/AIDS and to offer legal support to victims.
2. Women in Politics Project: This project was conceived as a way to combat women marginalization in the politics of Nigeria, and in order to assist women politicians acquire knowledge to organize their political campaigns and promote their political aspiration to people and the media. It is a grass roots platform for women across political parties to meet and share experiences, build and support one another. It is an initiative of LEDAP aimed at encouraging experienced and successful female politicians to mentor the younger and less experienced ones. It is also to encourage more women to join political parties and build their political careers from the ward levels.
3. Micro Credit Project: The project is aimed at empowering indigent persons who either have the capacity to start a business but have no capital or those who are running petty day to day businesses and are aspiring to expand the business. Five states, Osun, Anambra, Rivers, Kano and Plateau had been selected as Pilot States for the project.