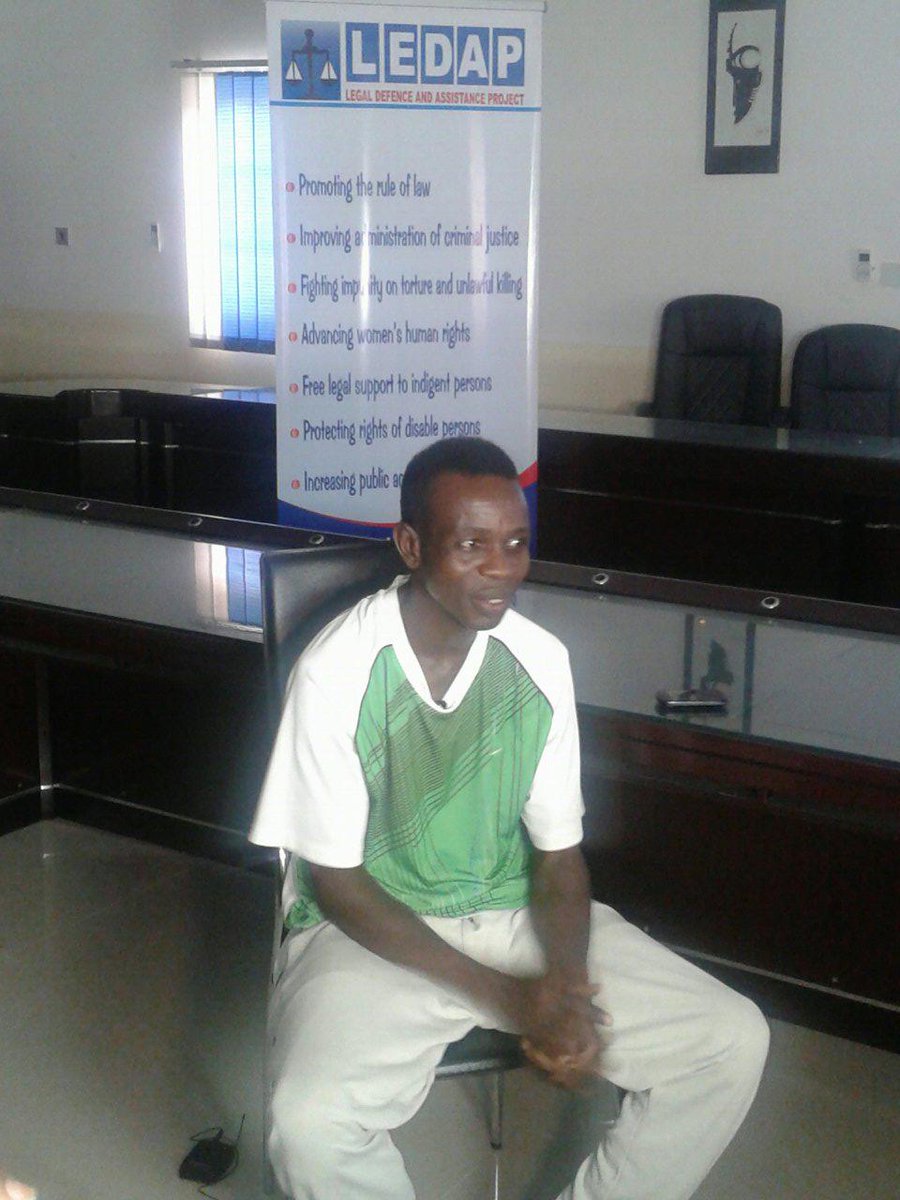 The Court of Appeal, Benin Judicial Division, Edo State on the 9th day of July, 2014 granted Monday Ilada Prosper his freedom, following the Legal Defence and Assistance Project – LEDAP taking over his action.
Monday Ilada Prosper, who was a driver at the time of his conviction, worked with his master without pay for 3 months. One day, he stopped the car, poured sand on his master's face and absconded with his bag of money. This led to his arrest few months later and was thereafter charged with armed robbery, convicted and sentenced to death in 2008.
Following the appeal against his conviction and sentence, filed by LEDAP, a panel of Justices of the Court of Appeal, Benin Division, frowning at the harsh Judgment of the lower court discharged and acquitted him on 9th July, 2014. Irrespective of the Judgment of the Court of Appeal, Monday Ilada Prosper finally worked out a freeman on the 16th February 2015 having spent additional 6 months in prison as a result of corruption in the system as officials kept demanding for money to process his release.
With tears of joy in his eyes, Monday Ilada, recounted his experience in prison and on death row and pleaded with the Nigeria government to put an end to Death Penalty for the sake of innocent souls.
According to his lawyer, Chino Obiagwu; "this is another opportunity to reiterate our calls for an in-depth re-evaluation and urgent overhauling of our Criminal Justice System, especially as it relates to the use of capital punishment. We cannot continue to be sentencing innocent persons to death, only for the appeal court to upturn the judgment after a decade or more when the appellant must have served unlawful sentence and deprivation of his personal liberty in the prison.
LEDAP uses this medium to call on the Nigeria government to reconsider its stand on the use of capital punishment by abolishing the use of death penalty and replacing same with life imprisonment.